Top posting users this month
Who is online?
In total there are
4
users online :: 1 Registered, 0 Hidden and 3 Guests :: 1 Bot
A_Norton21
Most users ever online was
76
on Thu 23 Aug 2018, 6:20 pm

Cleveland 36-11 Cincinnati

The Browns completed a season sweep over the Bangals to keep their slim playoff hopes alive. Latavius Murray rushed for over 200 yards in the second successive game, including a couple of TDs and was backed up by receiving TDs from Listenbee, Coleman and Woods. For the Bengals, Charles Sims III scored a 4th quarter consolation and earlier the home team had managed to block 2 PAT attempts by Cleveland.
The Browns have their work cut out to keep in playoff contention as they have a very tough road trip to Foxboro next weekend to take on the unbeaten Patriots.
_________________
Twitter: @GeorgeBransby
YouTube
It's all about money.
In
Paul Blanton Nick Forrest Sam Marty Bud Bill Chris Butch Romeo Eric Pat Rob Mike Hue 
Freddie we trust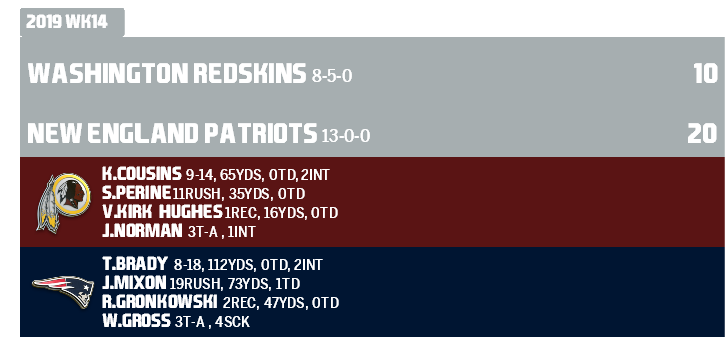 Game Ball-Pats Defence
Game Summary
Redskins looked to have unlocked the patriots for 1st qrt and half second.
But once a Pick 6 and then One big run happened it opened up for Patriots and never looked out of control.
In A snowy Gillette, White tops blending in played havoc for brady as he got picked twice,claiming didnt see them
Redskins star RB was Back but couldn't get anything going.
Cousins Seemed freeze like a bunny in headlights.
_________________
(Patriots HC & Ex Giants HC)
31/36 Season Playoff 
Appearances
25 AFC EAST Titles
10 AFC Conference titles
SB 24,35 Champion
1 NFC East Title
PS3-PS4(2014) Record
Twitch Tv
UStream
NEW YOUTUBE

16/2/19
@MattyE88

wrote:

Cousins Seemed frozen like a bunny in headlights.
Sounds like one of my games vs Patriots. Hard to complete a pass when all the defenders stick to you like glue. At least he got a pick 6.
_________________
Twitter: @GeorgeBransby
YouTube
It's all about money.
In
Paul Blanton Nick Forrest Sam Marty Bud Bill Chris Butch Romeo Eric Pat Rob Mike Hue 
Freddie we trust

GeordieAlfie

High School Player




Posts

: 179


Join date

: 2018-01-06


Age

: 24


Location

: Plymouth, England



_________________
Madden 18
Season #1: Seattle Seahawks 5-11, 3rd NFC North
Season #2: Seattle Seahawks 12-4, 2nd NFC North 
(Superbowl 35 Runner-up vs New England Patriots - Matty)
Madden 19
Season #1: Philadelphia Eagles 11-5, 1st NFC East 
(Superbowl 36 Runner-up vs Kansas City Chiefs - VL Coach)
Season #2: Philadelphia Eagles 14-2, 1st NFC East
(NFC Championship Runner-up vs New Orleans Saints - Rilester)
Overall EAFL Record: 48-25 (Including post-season)
Twitch channel for streaming Madden games

Veeebs

High School Player




Posts

: 222


Join date

: 2018-03-21


Age

: 27


Location

: Manchester, UK



Link to the youtube playlist for all the highlights 
https://www.youtube.com/playlist?list=PL8yM7UXSFd_sfCIwusl1UTKfLXB0Ukl4q
Didn't actually start broadcasting straight away, but the start of game was not good for the panthers at all, 2
nd
play of the game Cam completely over threw a pass for a Titans INT.
·  The Titans then had a long drive but knew held to a FG after great redzone defence. 3-0 Titans
·  With 2:33  minutes left in the 1
st
quarter the panthers were slowing moving down the field but after a great play Mccaffrey took a big hit and fumbled the football
https://youtu.be/vXySuye8lwU
·
This put the titans in a strong postion but on the next play an interception happened
https://youtu.be/9gXRc_skE_g
·  The Titans defended superbly to keep the Panthers at bay but on 3
rd
and Goal the Superman did what he does best and rushed in for a TD. 7-3 Panthers
https://youtu.be/N6fZ2bpBEmw
· On the next drive the Titans were 3 and out punted after a brilliant sack by the panthers sack machine Birdine.
·  However the Panthers continued to struggle on Offensive with a quick 3 and out
·  The Titans continued to drive down the field and Mariota gave the Titans the lead with a 66 yard TD to Odell Beckham JR. The Panthers safety made an awful mistake and was caught way under the ball allowing a comfortable catch for Odell.  
https://youtu.be/miJyVDEpYfo
10-7 Titans
·  Panthers started to put some plays together but on 3
rd
and 7 Cam made a massive play only for the WR to not hold on to the ball, Panthers punt .
https://youtu.be/Db02i92XxEM
 Score remains 10-7 Titans
·  Good defence from the Panthers led to a punt deep in to Panthers half via the Titans, the 7 yard line to be exact. After a risky Play action by Cam Newton the Titans got the sack for a massive Safety.  
https://youtu.be/ku7EnKgoNGk
12-7 Titans  
HALF TIME 12-7 Titans
· The Titans started off the drive with a punt, on the exchange of possession the panthers drove down the field but lose Mccaffrey to injury again ( 5 weeks). However the beast that is Spoles came in to score a very important touchdown. Panthers 13-12 (after a failed 2 point conversion)
·  On the Titans next drive Mariota tried to repeat the formula of the first half that got Odell in the end zone, however this time Parker made up mistake and picked the pass for an interception. 
https://youtu.be/SVe98Q2klTk
·  After the interception Cam & Spoles took the ball to the redzone where Benjamin finished the drive with a TD . 20-12 Panthers
·   With a 8 point lead the Panthers were in a great position to see out the game but still the whole 4
th
quarter to go!
·  The Titans marched down the field taking the clock down to the 4:23 mark when Henry continued to run riot with a TD. The Titans went for 2 points to level the game, however a big defensive play by the Panthers retained the lead.
https://youtu.be/ZNepaUmqDUY
20-18 Panthers
·  With 4 minutes left the game was in the Panthers hands to run the clock and get the W, after several successful 1
st
downs the clock was down to 2:48. However instead of continuing to run the ball the Panthers went for the pass, this proved to me a mistake after the Titans pulled off an incredible INT.
https://youtu.be/I46ZMwndZ0c
·
With the ball now in the Titans court they only needed a field goal to win the game. A great defensive play created an awkward field goal for the Titans
https://youtu.be/7G2E-qMilYo
·  Field goal attempt to take the lead
https://youtu.be/D1CGiDpyZv0
·  Somehow the Panthers were still in the lead and they ran the clock down for the Victory 
FINAL SCORE 20-18 PANTHERS
To summarise it was a was a very entertaining stressful game haha
(Hope this format of the match report is ok)
Dan - Panthers
P.s.
@GBDawg1
how do you create your highlights reel?

Rilester11

High School Player




Posts

: 133


Join date

: 2018-03-06



Simply by downloading whatever highlights EA have deemed worthy of recording at the end of the game  before you click on finish or exit or whatever it is. If you do that, then they are lost forever. Go into the highlights, select your highlight and then save it. You do this by clicking the share button on your controller and then the square button.

Once you have saved them all, then go into share factory and start creating your report. You can download the themes, or whatever they are called (first two clips and last two) from the ps store. You then simply start adding your various clips to your video creation and you edit each saved clip individually. I then upload them to Youtube. Once you get the hang of it it's fairly straightforward.

Just one thing from your highlights - please turn your drive goals off.
_________________
Twitter: @GeorgeBransby
YouTube
It's all about money.
In
Paul Blanton Nick Forrest Sam Marty Bud Bill Chris Butch Romeo Eric Pat Rob Mike Hue 
Freddie we trust

---
Permissions in this forum:
You
cannot
reply to topics in this forum